Generally, the effects of laser hair removal for men and for women are the same, affording everyone the benefits of long-lasting and pain-free hair removal. The main difference between laser hair removal in Toronto for men compared to women is the different treatment areas and the hair growth cycle. The goal of laser hair removal in Toronto is always permanent hair loss. But, depending on the treatment area those results may vary. At Toronto Laser Hair Removal, we always tailor our treatment plans to the individual to ensure the best laser hair results every time.
How Long Does Laser Hair Removal Last?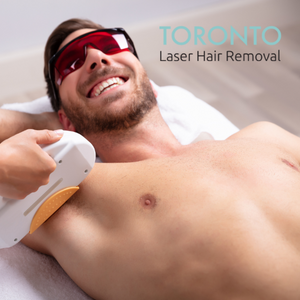 Laser hair removal results can last up to 10 years or longer, if the right number of sessions are completed. When laser hair removal in Toronto is successful, the laser targets and damages hair follicles which will delay and eventually stop hair growth altogether. For hair removal to be permanent, laser treatments must completely destroy the follicles.
The Hair Growth Cycle & Laser Hair Removal for Men
About 5-7 sessions at a laser clinic is required for ideal laser hair removal treatment results. Laser hair removal works depending on the hair growth cycle. But not all of your hair goes through the same stage of growth at the same time, so for your treatment to be effective multiple sessions are required to occur during the Anagen stage of growth, when hairs are visible and attached to the bulbs. Men will sometimes go through the hair growth cycle faster than women, depending on the treatment area, so they find themselves scheduling their sessions closer together.
For more insight into your laser hair removal needs, contact the Toronto Laser Hair Removal team.