Why is Laser Hair Removal Gaining Popularity Amongst Men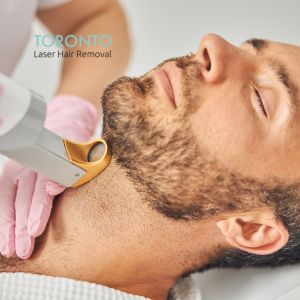 Laser hair removal services are growing in popularity as many identify it as an effective treatment against unwanted hair. Laser hair removal for men, in particular, is also gaining in popularity as it cuts down on grooming and provides a multitude of benefits and conveniences. Toronto Laser Hair Removal is a leader in the laser hair removal industry, operating for over 12 years and offering the best technology and laser practices.
Keep reading to learn why laser hair removal is gaining popularity among men.
How Does Laser Hair Removal Work
Laser hair removal services work by a laser emitting a light that targets the pigment in the hair. The energy emitted from the laser's light converts to heat and damages the hair follicle, preventing further hair growth.
The hair has four growth phases anagen (growth), catagen (transition), telogen (rest) and exogen; at any given time, different hairs are going through different growth phases simultaneously. The laser must catch the hair during the anagen growth phase to properly destroy the follicle or inhibit future hair growth.
This is why you must generally commit to 6 to 8 laser hair removal appointments, as you attempt to catch all hair in the target area while it's in the anagen phase.
Popular Areas Men Target for Laser Hair Removal Services
Laser hair removal for men can be performed safely all over the body or face. Men like to have laser hair removal performed on their faces or necks to define their beards and remove the regular grooming, rashes, and razor burn from their lives.
Men also target areas that are challenging to shave or wax, like the back and shoulders. The reality is men may want to permanently remove hair on the chest, arms and legs as well; it is according to personal preference and helps to decrease grooming time and prevent ingrown hairs and stubble.
Toronto Laser Hair Removal also offers the Manzilian laser hair removal service for their male clientele, which is laser hair removal performed on the pubic region. Manzilians are customizable according to your preference and are a safe and effective way to eliminate unwanted hair.
Laser for Different Skin Tones and Hair Colours
Laser hair removal can safely be performed on different hair colours and skin tones. There is a variety of advanced laser hair removal technology available to target different kinds of hair colours on different skin tones. Toronto Laser Hair Removal offers the LightSheer Duet to effectively remove light to medium hair on light skin. They offer the GentleMax Pro machine for darker skin tones, which is safe and effective for dark hair on dark skin.
Effective Laser Hair Removal for Men
Toronto Laser Hair Removal provides highly skilled certified laser technicians and advanced laser hair removal technology to safely and effectively permanently remove unwanted hair. We have been established since 2010 and we are a team committed to continued learning and training. If you would like more information, do not hesitate to contact our friendly, knowledgeable experts.