Why Choose Laser Hair Removal for Sensitive Skin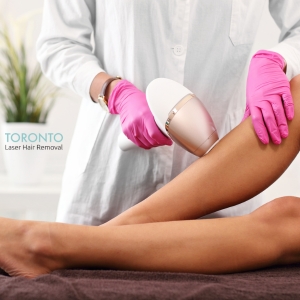 Laser hair removal in Toronto is often celebrated for its permanent removal of unwanted hair, especially for those struggling with excessive hair growth. However, laser hair removal is great for those with sensitive skin as well as it doesn't irritate the skin in the same manner that alternative hair removal techniques do. Toronto Laser Hair Removal is a laser hair removal clinic in Toronto offering a range of different laser technologies and highly qualified certified laser technicians to ensure safe and effective laser hair removal treatments.
Read on to learn why you should choose laser hair removal for sensitive skin.
Laser Hair Removal In Toronto
Laser hair removal works by emitting a laser that targets the pigment in the hair and destroys it down to the follicle; the surrounding skin is completely undamaged by the procedure.
Sometimes you might feel some heat, but the more advanced laser technologies offer cooling and other measures to make it a painless procedure.
Unlike shaving or waxing, laser hair removal in Toronto does not bother the skin and leaves it smooth and not irritated. Shaving and waxing can cause burns, bruises, cuts and sometimes scars.
Laser hair removal is a permanent option that will help remove all other temporary hair removal options from your life.
Benefits of Laser Hair Removal
An immense benefit of laser hair removal is that it prevents ingrown hairs. Ingrown hairs irritate the skin and sometimes leave scars.
Another benefit of laser hair removal is that it helps remove daily hair removal maintenance from your life, so you don't need to worry about shaving or waxing your unwanted hair whenever you want to wear something that shows some skin.
Laser hair removal delivers convenience and helps you save time and money over the long run. Laser hair removal is permanent, so it will help you feel confident and ready for everything. You'll always be ready if you want to go anywhere or go to the beach.
Laser hair removal will also help you avoid the discomfort of stubble. The hair that returns after a laser hair removal treatment is generally not sharp and strong, like after shaving.
The benefits for your skin, daily routine and busy life are innumerable; laser hair removal can genuinely improve your life.
Pre and Post Care Protocols
To ensure you enjoy a safe and effective treatment, you should definitely adhere to the pre and post-laser hair removal treatment protocols. Your skin is still healing, so you must give it the time it needs before exposing it to the sun, putting cream on and more.
Your laser hair removal clinic will often give you a brochure, document or inform you verbally about things to avoid pre and post-treatment.
Toronto Laser Hair Removal For Sensitive Skin
At Toronto Laser Hair Removal, we are pioneers in the laser hair removal industry. We offer the most advanced technology and will definitely work with your sensitive skin to ensure you have successful treatments. If you want to learn more, don't hesitate to call us.