Where Do Men Target Laser Hair Removal?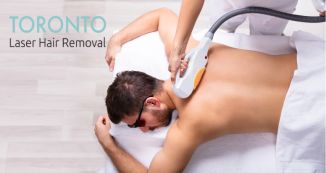 Laser hair removal in Toronto has quickly grown in popularity as it has proven itself a safe and effective way to permanently remove hair over time. People are learning that they can save time and enjoy silky smooth skin forever. Laser hair removal for men is very popular as men want to decrease their grooming time and permanently eliminate unwanted hair. Toronto Laser Hair Removal is your key destination for laser hair removal in the Greater Toronto Area, as they offer the best in laser hair removal technology on the market.
If you are looking for more information on where men can leverage laser hair removal with a leading laser clinic in Toronto, read on.
Why Men Choose Laser Treatments
You shouldn't be surprised to learn that men love indulging in skin care treatments to improve their appearance just as much as their female counterparts. Men often seek out laser hair removal as a much more comfortable option than painful hair removal alternatives such as shaving and waxing. This way, they avoid the nicks from shaving and the pain of waxing with a long-lasting alternative.
Improving Facial Grooming
Men like to get laser hair removal on the face as it is an excellent option to achieve a clean-shaven look without much effort or pain. Permanent laser hair removal is an option that saves a tremendous amount of time and reduces the discomfort of stubble or ingrown hair. Especially if you notice that you develop a beard shadow too quickly after shaving. Men also opt for laser hair removal in Toronto to define their beards and keep their faces clean of stray hairs. It just helps to maintain a polished and tidy look.
Laser Hair Removal for Men & Body
Men can literally choose to have laser hair removal performed on any part of their body or, alternatively, on their entire body. The sky's the limit when it comes to where men's laser hair removal treatments are performed by a trusted and experienced specialist, like those at Toronto Laser Hair Removal.
Back & Shoulders: Some popular areas men seek laser hair removal on are the back and shoulders. Many men might find hair on these areas difficult to remove, so it's quite appealing to just have several laser treatments to permanently remove this hair.
Chest & Back: Another area men choose to remove hair permanently is the chest or back. Often men want to remove some or all of the hair on their chest or back, and again, laser hair removal is a sustainable and painless hair removal technique that can lead to permanent results over time.
Arms & Legs: Men also get laser hair removal on their arms and legs. Essentially removing hair from the body is like any other aesthetic treatment. It helps everyone to look and feel better and allows you to be your most confident self.
Your Premier Destination for Laser Hair Treatments
At Toronto Laser Hair Removal we use advanced technology. We offer the GentleMax Pro and LightSheer Duet. The GentleMax Pro can treat dark hair on dark skin more effectively than most other machines on the market.The LightSheer Duet targets light to medium hair effectively.
Our team has years of experience and is well-trained. You can feel comfortable and safe attending our laser hair removal clinic.
Contact Toronto Laser Hair Removal now to book your appointment.