The Benefits of Permanent Hair Removal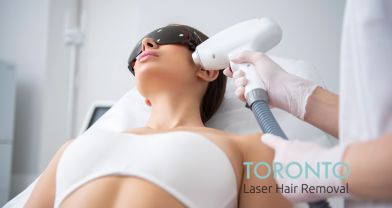 Permanent laser hair removal offers a host of benefits that attract men and women from all over Toronto to begin treatments. Laser hair removal technology has advanced significantly and can now be provided in a pain-free and comfortable treatment. Laser machines have also become more targeted as some are created to be effective for those with darker skin tones, and others help to treat light hair on light skin. Many find the laser hair removal cost worth it as it eliminates years of painful hair removal treatments, and irritating stubble from our busy schedules. At Toronto Laser Hair Removal, we offer versatile, convenient, and affordable solutions for laser hair removal in Toronto.
To learn more about the benefits of laser hair removal, continue reading.
No More Painful Treatments or Irritating Stubble
One of the most desirable benefits of permanent laser hair removal is that it is near painless and, seeing as it is permanent, it removes the need for regular hair removal treatments. Alternatives to laser hair removal are often quite painful and can often leave nicks and bruises. Laser hair removal is a welcome reprieve from alternative hair removal techniques which use hot waxes and sharp razor blades.
Many men and women have to deal with stubble almost within 24 hours after shaving. This makes it burdensome and uncomfortable. Laser hair removal can be safely performed anywhere on the body with visible results and no discomfort.
Laser Hair Removal Cost
When people consider their investments, they often find the laser hair removal cost of 5-7 treatments to be of excellent value. This means you will always be ready to go swimming, wear shorts, sleeveless shirts and whatever other attire you couldn't wear until you remove unwanted hair. The convenience and time-saving you will get from laser hair removal will make it a worthwhile investment. Having one more hassle removed from your routine and life can only be celebrated. Plus, you get skin that is always smooth, which is ideal. No more new hairs, stubble or ingrown hairs, which can become infected, is quite a relief.
When you factor in the time to perform hair removal treatments, it is not just the procedure but driving back and forth from an appointment or pharmacy, if you are doing it yourself, and then the actual procedure. This becomes tedious and time-consuming, especially over the years. When you receive laser hair removal treatments, you know these appointments will eventually end and you will achieve your goal of being naturally hairless. It won't be a lifetime of constant hair removal treatments which would then become unpleasant, especially for our busy schedules.
Choose Toronto Laser Hair Removal
Toronto Laser Hair Removal is a pioneer in the Toronto skincare and wellness industry. We invest in the most advanced and effective laser hair technology to adequately serve our diverse clientele. We offer two different machines that can be effective for darker skin tones or lighter hair on light skin.
Our highly trained team is always involved in continued education and training.