Is Laser Hair Removal Effective on all Skin Tones?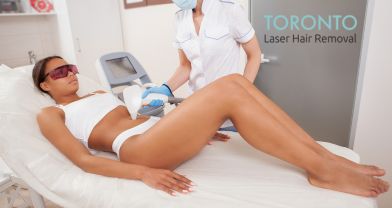 When someone is considering laser hair removal for the face they often feel with a mix of excitement and concern. Men and women are excited to eliminate the maintenance and, sometimes daily, work of removing facial hair. However, concerns linger if the procedure will be safe and if you will face any burns or scarring. Another concern clients have is what happens if you invest in several laser hair removal treatments and, in the end, the hair remains. Laser hair removal in Toronto can be performed flawlessly for all skin tones, but there are some key features to request more information on before you commit to your treatments. That will help make sure you are safe, and your laser hair removal treatments are effective.
Efficacy of Laser Machines
Many laser clinics offer laser hair removal in Toronto; it's a treatment that is almost as common as hair waxing. It's important to note, that not all laser hair removal is the same nor is it all equally effective. When investing in laser hair removal, you'll want to find a laser clinic in Toronto that invests in high-quality machines. There have been enormous strides in laser hair removal technology, so it's essential to educate yourself on the machines at the clinic that you are considering for your treatments.
Firstly, depending on your skin tone, specific laser hair removal machines work more effectively on your skin and hair colour than others. There is not a one size fits all approach to laser hair removal. Leaders in the laser hair removal industry, such as Toronto Laser Hair Removal, have invested in multiple laser hair removal machines to better serve their diverse clientele. Toronto Laser Hair Removal uses the Candela GentleMax Pro, which is safe and effective for darker skin tones.
An area people struggle with is if they have fine or light hair on light skin tones, they may feel their laser hair removal treatments were ineffective, again Toronto Laser Hair Removal has invested in top-tier safe technology and offer the Lumenis Light Sheer Duet for light hair on light skin, this machine can also be safely used on a tan.
It is important to do some preliminary research on laser hair removal machines and ensure the clinic you choose to receive laser hair removal treatments offers the devices that will be safe and effective for your skin tone.
Experience of the Laser Technician
One more feature of effective laser hair removal for a variety of skin tones is the experience and training of your laser technician. Don't be shy to ask questions or research about the technicians' years of experience and what kind of training the technician has received.
Especially when considering laser hair removal for the face, you want to ensure that nothing will go wrong and that it shouldn't happen with an experienced and skilled technician.
Toronto Laser Hair Removal for All Skin Tones
Toronto Laser Hair Removal has been treating clients for over 13 years. They continually invest in quality training for their team and invest in the most cutting-edge technology on the market for a range of services including facial, legs, arms, and Brazilian laser hair removal. We offer a team that is enthusiastic and passionate about what they do, and they will work hard to go above and beyond to help you achieve your laser hair removal goals.