How to Eliminate Razor Burn with Laser Hair Removal for the Face
Posted on 25 October 2022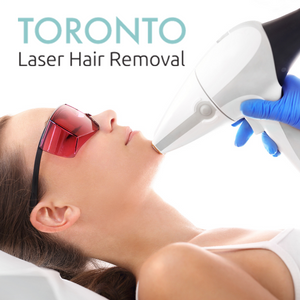 Both men and women shave or microblade their faces to achieve a soft, smooth, and hair-free look. Some people shave their face for better makeup applications or to remove "peach fuzz," while others prefer a clean-shaven face. Although shaving can momentarily remove facial hair, it causes negative after effects such as breakouts, itchiness, ingrown hairs and irritation. On the other hand, laser hair removal for the face effectively eliminates razor burns by using state-of-the-art light beams to destroy the hair follicles, preventing hair growth.
Toronto Laser Hair Removal offers a wide range of services and affordable laser hair removal prices that are cost-effective and help you say goodbye to razor burn for good.
Here's how you can eliminate razor burns with laser hair removal for the face.
What Causes Razor Burns or Bumps?
Many people shave their faces to remove hair on their upper lip, chin, eyebrows, cheeks, and sideburns. Although shaving can temporarily remove hair from your face, it can result in painful issues like prickly skin, razor bumps, rashes, redness, and razor burns when the hair grows back. Instead of the hair growing up and out of the skin, it curls inward and grows under the surface, causing ingrown hairs. When you shave every day, laser hair removal for men can make a significant difference in how your skin feels.
How to Eliminate Razor Burns?
Razor burn is hard to mitigate when sticking with the same old body hair removal methods. Experts recommend topical treatments and disinfectants. But, an even better way to avoid razor burn is with laser hair removal for the face. At Toronto Laser Hair Removal, our licensed specialists use advanced technology that's FDA and Health Canada approved to target treatment areas on a wide range of skin tones and skin types.
Our cutting-edge laser machines include the Candela GentleMax Pro and the Lumenis Light Sheer Duet, allowing for a painless, easy, and quick treatment that leaves no burns, bumps, or discomfort. Laser hair removal for the face can be controlled or eliminated entirely on various areas of your face, including ears, eyebrows, forehead hairline, forehead, nose and nostrils, sideburns, beard, neck, cheeks, and upper lip. For trustworthy and results-oriented laser hair removal, choose the Toronto Laser Hair Removal professionals.
Laser Hair Removal for the Face
Shaving is a hair removal method that must be done often to maintain a hairless face. The cycle is never-ending and always temporary - resulting in razor burns and itchiness. Instead of spending money on razors, shaving creams, and razor burn treatments, laser hair removal can effectively remove your facial hair with minimal pain or discomfort. Razors can cost anywhere from $3 to $20+ and usually can only be used 3-10 times before they need to be replaced. Although razors and laser hair removal prices significantly differ, you end up saving more money in the long run by scheduling laser hair removal for the face. At Toronto Laser Hair Removal, our team of laser specialists can successfully remove or groom your facial hair, drastically boosting your confidence.
Expert Laser Hair Specialists in Toronto
As the leading laser hair removal clinic in Toronto, we know exactly what our clients need to achieve their desired look. The Toronto Laser Hair Removal team consists of laser technicians, medical estheticians, and registered nurses with decades of experience and training. Our goal is to provide a safe and welcoming place for all clients, regardless of gender, age, or hair-removal areas. To ensure we always deliver the best services, the team of specialists continuously trains, learns, and explores new technologies and methods.
Ready to eliminate razor burns on your face?