How Men Can Permanently Remove Facial Hair
Posted on 20 October 2022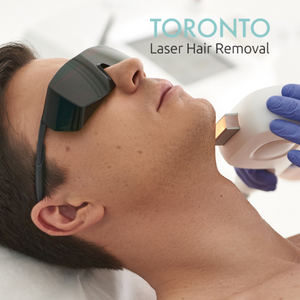 When it comes to facial hair, men have traditionally opted for razors and shaving to remove unwanted hair in hopes for a close, clean shave. Unfortunately, shaving leaves ingrown hairs, skin irritation, and razor bumps. Laser hair removal for men, on the other hand, is the perfect solution for those who want to groom their facial hair but don't want to spend time shaving or waxing their face daily. Laser hair removal prices are cost-effective and beneficial, permanently removing facial hair with minimal pain or discomfort.
Continue reading to learn how men can permanently remove facial hair.
Laser Hair Removal in Toronto
If you're tired of shaving or using other hair-removing methods to get rid of your facial hair, look no further than laser hair removal for men. This state-of-the-art hair removal technique has grown popular over the years, with more and more people scheduling laser hair removal services. Instead of spending time perfecting your facial hair each day for a put-together and polished look, laser hair removal can enhance your confidence while saving you time and money.
Is Laser Hair Removal Right for You?
Are you curious if laser hair removal is right for you?
Do you spend money on waxing services and razors each month?
Are you self-conscious of your facial hair?
Do you encounter problems when removing your facial hair, like clogged razors, cutting your skin, or acne?
Are you spending time when it comes to hair removal?
Do you have ingrown hairs, razor burns, or razor bumps?
If you answered yes to any of these questions, laser hair removal is perfect for you. Eliminate the hassle of old-school hair removal techniques like waxing, tweezing, and shaving with the experts at Toronto Laser Hair Removal.
Benefits of Laser Hair Removal
Minimal Pain or Discomfort: For those with dry skin, shaving causes dryness and itching, making it dry out faster. It risks cutting and nicking your face, causing stinging and bleeding. Also, waxing can cause skin irritation, burns, infections, discolouration, and even allergic reactions. To prevent any discomfort, choose laser hair removal for fast, pain-free, and permanent facial hair removal.
Saves Time & Money: With traditional hair removal methods like waxing or shaving, the hair grows back quickly and requires a lot of time, money, and effort. Laser hair removal takes less than an hour for each session, and the prices are cost-effective. You also save on costs as you no longer spend money on shaving cream, razors, waxing strips, or hair removal appointments. At Toronto Laser Hair Removal, we provide a professional, safe, clean clinic with effective results. With just 5-7 sessions, you can achieve your desired look.
Permanently Removes Facial Hair: Waxing and shaving are painful and uncomfortable, and lead to an array of problems like infections, bleeding, or stinging. Because these hair removals aren't permanent these adverse effects must be endured on a regular basis to keep your well-groomed facial hair maintained. With laser hair removal in Toronto, you can permanently remove your unwanted facial hair with ease.
Why Choose Toronto Laser Hair Removal?
At Toronto Laser Hair Removal, our goal is to provide top-quality laser hair removal that is safe, painless, and accessible to a wide variety of clientele. Our team is always learning, training, and informed on new techniques, technologies, and trends in skin care.