How Does Brazilian Laser Hair Removal Work?
Posted on 28 February 2023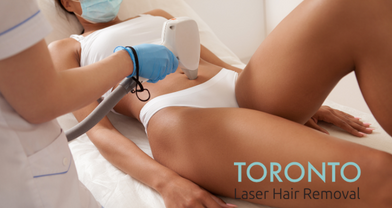 If you're looking for a near-permanent, painless, and convenient hair removal method, look no further than laser hair removal. Laser hair removal is an excellent way to remove hair in every part of the body — from your face, chest, legs, underarms, and bikini area. Brazilian laser hair removal from Toronto Laser Hair Removal will target and damage hair follicles, so you'll notice significant results after a few sessions. If you want to get ready for summer with laser hair removal in Toronto, schedule a consultation with our specialists to get started.
Here's your guide to all things Brazilian laser hair removal.
How to Prepare for Laser Hair Removal
After your consultation and you've decided that laser hair removal is for you, you must prepare for your first appointment. For the week before your appointment, avoid direct sun exposure — it may cause skin damage and irritation. If you get a sunburn, you'll likely have to reschedule your appointment. In addition, you should avoid using NSAIDs, like ibuprofen or naproxen. Ibuprofen and naproxen are anti-inflammatory pain relievers, so using them before laser hair removal in Toronto may increase your risk of bruising and irritation. If you need some pain relief, opt for acetaminophen instead. Instead of waxing or tweezing the desired area, shave it beforehand. Shaving allows for the laser to easily and quickly target the hair follicle. When you arrive at Toronto Laser Hair Removal for Brazilian laser hair removal, wearing loose clothing, like linen pants, is best to avoid irritation and sweat.
Brazilian vs. Bikini Laser Hair Removal
Both bikini and Brazilian laser hair removal use advanced laser technology, destroying individual hair follicles and preventing future growth. However, while they are the same technology, the results will differ. Bikini laser hair removal targets the top and sides of the bikini area, whereas Brazilian removes all hair in the pubic area and inner thighs. Brazilian laser hair removal leaves the skin around your bikini area — and more — soft and hairless.
What to Expect From Laser Hair Removal
Immediately following your laser hair removal session, you may feel some sensitivity to the affected area, but that's completely normal and will subside in a few hours. You'll notice significant hair loss after your session and may even be tempted to miss out on a few of your sessions — but you must keep attending them. Laser hair removal targets hair follicles in an active growth stage; only a fraction of our hair is in that stage. Each session is six weeks apart, precisely timed to match your hair's growth cycle. After attending all your appointments, your skin will be smooth and glowing.
Laser Hair Removal Aftercare Tips
Following your appointments, you should continue to avoid direct sun exposure, scented cleansers, and tight clothing, like leggings. Anything that could cause excessive sweating after your appointment, like a sauna, steam room, or workout, it's best to avoid to limit irritation.
To learn if Brazilian laser hair removal is for you, schedule a consultation with specialists at Toronto Laser Hair Removal today.