Guide to Gifting Laser Hair Removal this Holiday Season
Posted on 07 December 2022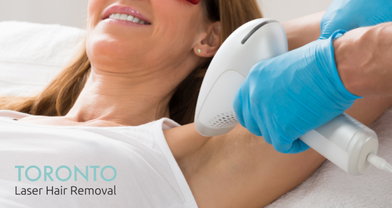 The holidays can be stressful, and when you're not sure what to get your loved ones, it's common to feel extra tension when you want to find a thoughtful gift. Whether you're gifting your parents, partner, or friends, laser hair removal in Toronto is a thoughtful gift for anyone in your life. Regardless of gender, age, or skin type, laser hair removal is a luxury and effective solution to traditional hair removal that leaves you feeling pampered. Give the gift of confidence and convenience with laser hair removal near Toronto with expert services.
Continue reading for a guide to gifting laser hair removal this holiday season.
The Gift That Keeps On Giving
The greatest thing about gifting laser hair removal in Toronto is that it's the gift that keeps on giving. At Toronto Laser Hair Removal, you have the option to choose a single treatment or package that includes 3 or 5 treatments, depending on your skin condition and type. For effective treatment results, 3 to 5 sessions, 4 to 6 weeks apart, are recommended by our laser specialists. By purchasing a package for laser hair removal near you at our laser clinic in Toronto, you can save up to 20% compared to individual treatments, and the gift will continue after the holiday season. Because the treatment is permanent, your gift will save years of hair removal costs granting an eternity of smooth, hair-free skin.
Why Laser Hair Removal in Toronto?
Laser hair removal has grown in popularity as many people tend to feel self-conscious about their facial, body, or pubic hair. After trying various hair removal methods like shaving, waxing, tweezing, and epilating, effective and permanent hair removal may seem impossible to some. If your loved one's not happy with their typical hair removal appointments or DIY efforts, laser hair removal is one of the best gifts you can give. Laser treatments offer quick and effective services with minimal discomfort or pain, unlike other hair removal techniques. Choose the experts at Toronto Laser Hair Removal for state-of-the-art equipment and outstanding customer service.
Choosing The Right Laser Clinic
As you look for the best laser clinic near Toronto, you'll notice that there are many places to choose from. When deciding on the right laser hair removal clinic for your special someone, you'll want to look out for a few factors, including reviews, before/after pictures, cost-effective pricing, and a track record of customer satisfaction. It's essential to choose a company with a reliable and trustworthy team of experts with years of first-hand experience. At Toronto Laser Hair Removal, we check all of those boxes. With a team of dedicated and highly knowledgeable staff, you can count on Toronto Laser Hair Removal to provide your friends, family, or partner with the best service possible.
Expert Laser Specialists Near You
When searching for the perfect gift this holiday season, choose laser hair removal services. Whomever you decide to treat, we guarantee excellent service and high-quality results at Toronto Laser Hair Removal.