Erase Strawberry Skin with Laser Hair Removal
Posted on 26 February 2023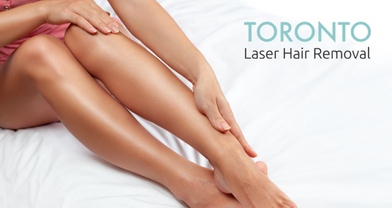 With spring and summer fast approaching, we all want to look and feel our best. For some, feeling their best includes getting facials, a haircut, or even laser hair removal. Laser hair removal in Toronto is the perfect way to prepare for warmer weather; it offers a semi-permanent solution to hair growth, leaves you with silky smooth skin, and can even help treat strawberry legs. For those that rely on shaving, strawberry legs may be an insecurity. Thankfully, our high-quality laser hair removal services can help, and with affordable laser hair removal cost, anyone can do it.
Read on to learn more about how laser hair removal helps strawberry legs.
What is Strawberry Skin?
Strawberry skin occurs when hair follicles become enlarged and clogged with hair, dirt, oil, and dead skin, creating unsightly dark spots. These dark spots resemble strawberry seeds — hence the nickname, strawberry legs. Strawberry skin isn't any cause for concern. Still, some people may be insecure or bothered by the appearance of dark spots, especially on their legs. Strawberry skin is generally a symptom of shaving, waxing, or wearing tight clothes.
How Does Laser Hair Removal Help Strawberry Skin
Laser hair removal in Toronto from our trusted clinic provides a two-in-one solution: hair removal and improving complexion. Since laser hair removal targets and damages hair follicles, it also helps treat strawberry skin. By eliminating hair follicles, no more hair will grow and won't be clogged with dirt, oil, or dead skin. When your laser hair removal sessions are complete, pore size will be smaller, the skin will appear more even and smooth, and any dark spots or hyperpigmentation will no longer be an issue. If strawberry skin concerns you, schedule a consultation at Toronto Laser Hair Removal. Our specialists will answer any questions you may have, including the laser hair removal cost and length of the treatment. This summer, eliminate any insecurities you may have about strawberry skin with laser hair removal.
Why Choose Laser Hair Removal Over Other Hair Removal Treatments
Laser hair removal is a treatment that provides many benefits — more than just hair removal. While shaving and waxing may seem easy, they often come with side effects, like the risk of ingrown hairs, inflammation, and hair growing back quickly. With laser hair removal, though, there are no side effects, only positive outcomes. Laser hair removal is painless, effective, and drastically slows down hair growth. Laser hair removal also minimizes scars, improves skin texture, and can also help with scar removal. While laser hair removal does require at least six sessions for complete removal, it is quick to see results.
Why Choose Toronto Laser Hair Removal
At Toronto Laser Hair Removal, we use innovative and advanced technology to ensure precision and efficacy. If you're curious about laser hair removal, especially for erasing strawberry skin, book a consultation with our specialists today. We'll walk you through the entire process to ensure this is the right procedure for you and your concerns.
Schedule a consultation at Toronto Laser Hair Removal today.