Common Myths about Laser Hair Removal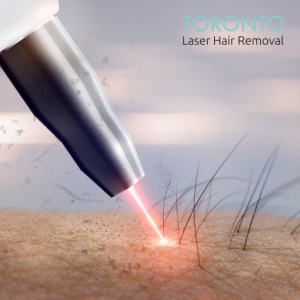 Laser hair removal in Toronto has become a popular cosmetic service that offers many practical benefits to men and women year-round. Despite its popularity, there are still many uncertainties and mystery shrouding the technology especially when targeting areas other than the leg, like with Brazilian laser hair removal or laser treatments for the face. At our leading laser clinic in Toronto, we ensure our patients come out with the utmost satisfaction. Say goodbye to the hassles of constant shaving or painful waxing with Toronto Laser Hair Removal.
Here are 5 common myths about laser hair removal services.
Myth: Results Are Visible After One Session
Due to the natural hair growth cycles, getting rid of hair after one session is impossible. Due to the intricacies of the hair growth cycle approximately 5-7 sessions are needed in any given target area to effectively eliminate all traces of hair. The recommended number of sessions will depend on your body and the area you choose to target with laser hair removal in Toronto. To determine the ideal number of sessions for permanent hair removal results, schedule a consultation with our team of specialists at our Toronto laser clinic.
Myth: Treatment Can Lead to More Hair Growth
As everyone has different hair growth patterns, everyone's results with laser hair removal will vary. Some may find their hair growth increases as they age, while others lose hair. If you notice your hair growing after a session, it's simply your body producing them. The laser targets the existing hair follicles; it can't stop growth entirely.
Myth: Laser Hair Removal Doesn't Work on Some Hair Colours & Skin Tones
It used to be that the technology used for laser hair removal could only work by the contrast of the hair colour from the skin, meaning it would only work on darker hair. Though individuals with a more significant contrast are still the best candidates for laser hair removal, individuals with less contrast can still benefit from the hair removal process. As technology has evolved, different laser hair removal machines have elevated our ability to target hair on lighter hair as well as darker skin more effectively.
Myth: You Do Not Need a Laser Clinic Consultation
Getting a consultation before moving forward with the hair removal process is imperative. Everyone has a unique hair condition, so visiting a professional can help determine the number of sessions you need and how spaced out they should be. Following someone else's laser program may not fit your needs as well. It all depends on the thickness of hair, hair colour, skin tone and skin type.
Myth: Laser Hair Removal is Painful
The devices used were not entirely painless at the start of laser hair removal. However, with the advancement of technology, our products are nearly pain-free. Though you may experience redness and irritation, the side effects are so minimal they disappear within a few hours. If you have more sensitive skin, talk to your laser technician about steps you can take to minimize discomfort and mitigate pain, especially when opting for treatments in more sensitive areas of the body like Brazilian laser hair removal.
Book Your Laser Consultation
At Toronto Laser Hair Removal, our technicians are trained to provide safe and effective procedures. As a leading laser hair removal clinic, we ensure you are comfortable before, during, and after your session. Come to use for whatever hair removal procedure you need, as we offer hair removal services for men and women anywhere on the body.