Benefits of Laser Hair Removal for Men's Backs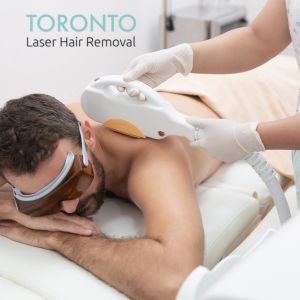 Unwanted hair is notorious for interfering with people's lives and activities. Men are increasingly turning to laser hair removal in Toronto to permanently rid themselves of unwanted hair and outdated hair removal procedures. Removing hair on the back is a particularly popular laser hair removal treatment for men as they can be ready to go out to a pool or beach without feeling a tad insecure. Toronto Laser Hair Removal is a premier provider of laser hair removal for men and women in the Greater Toronto Area, so you can free yourself of unwanted hair for good. Our team at Toronto Laser Hair Removal is skilled and experienced in performing laser hair removal all over the body.
Read on to learn more about the benefits of laser hair removal for men's backs.
Pain-Free Hair Removal
Anyone who has experienced the pain of waxing can appreciate the idea of pain-free hair removal. Wax strips pull on hair follicles, trigger severe pain. As you wax larger areas of the body like the back, the pain is continual. Even after one session of waxing, it offers no permanent results which leaves men forced to return for recurring sessions indefinitely. Laser hair removal services for the back is a painless and comfortable alternative, that causes less irritation and doesn't put you at risk for ingrown hairs. To learn more about what you can expect from laser hair removal in Toronto for your back, contact our team for a consultation.
Permanent Hair Removal
Traditional hair removal techniques, like shaving and waxing have no long-term results. Even when done perfectly once, it must be done again. Because the back is generally accessible, especially with a sharp tool like a razor, maintaining hairlessness without laser hair removal in Toronto can be tedious and frustrating. Along with being a pleasant, easy experience, laser hair removal for men, on the other hand, provides lasting results, often leaving you hairless for weeks in between appointments. Eventually, leading to permanent hair-free results. After a series of approximately 5-7 consistent appointments at our laser clinic in Toronto, you will be able to enjoy a completely hair-free back.
Convenient Laser Clinic Treatments
Especially in the summer, plans that require you to bare your skin can come at any minute, like a vacation on short notice. With limited warning or time to be prepared, removing hair from your back on demand can be challenging to fit into your schedule. Most wax bars get booked up weeks in advance and thorough hair removal can be a challenge on your own. By preparing ahead of time with permanent laser hair removal sessions, you can be ready for anything.
Once you have completed your series of treatments, you no longer need to dedicate time to a regular hair removal routine. If you start your laser treatments once the summer season has wrapped up, you can be lucky enough to be hair free by the following summer. Everyone is different, but your laser technician can guide you on expectations and timelines.
Toronto Laser Hair Removal for Men and Women
Toronto Laser Hair Removal has a team of licensed specialists who are constantly being trained on the newest information and technology in the market. We use two different kinds of laser machines to effectively target different hair types. At Toronto Laser Hair Removal, we offer the Lumenis Light Sheer Duet to target light to medium-colored hair and the Candela GentleMax Pro to target dark hair on dark skin.
Our knowledgeable team of experts is here to help.
Benefits of Laser Hair Removal for Men's Backs to book your consultation.