A Guide to Laser Hair Removal in the Summer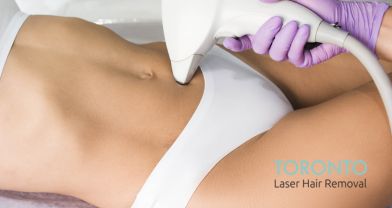 Laser hair removal in Toronto becomes top of mind as summer approaches. Everyone wants to be able to wear their swimwear and summer clothes while feeling comfortable in their skin, but many don't want to deal with the burden of keeping up with hair removal like waxing and shaving. The more skin we show is proportionate to our hair removal needs. Brazilian laser hair removal becomes an immediate priority with the breach weather approaching. As universal and safe as laser hair removal is, there are some skin care tips to make sure we stay safe and still protect our skin this summer. With experienced and friendly specialists available, you can talk to the Toronto Laser Hair Removal team to learn more about maximizing and maintaining your laser hair removal this summer.
Read on for your guide to laser hair removal in the summer.
Summertime Brazilian Laser Hair Removal
Although you may want to make sure you don't engage in any painful waxing or shaving nicks as you get swimsuit ready, you will need to be cautious regarding sun exposure before and after a laser hair removal treatment. It is advised to avoid sun exposure for at least two weeks before getting a laser hair removal treatment. So that's why, during the fall, winter and spring months, it is quite convenient to schedule 5-7 Brazilian laser hair removal treatments so you can be hair free by the summer. If that schedule does not work out, don't expose the area for two weeks before or after the sun to avoid sun damage to the skin. So maybe looking at a swimsuit that offers full coverage can help you work around this to safely continue your laser treatments in the summer.
Keep Out of the Sun After Laser Hair Removal
After laser hair removal in Toronto, avoiding the sun for at least two weeks is recommended. You should let your skin heal after the laser treatment. This can help reduce associated risks like hyperpigmentation. Hyperpigmentation occurs when some areas of the skin become darker than others. You don't want to risk uneven skin tone, so you should pay attention to these best practices of avoiding the sun two weeks before and after laser hair removal treatments. Afterwards, continue to lather up in a high-SPF sunscreen. Overall, as much as possible, try to avoid booking laser hair removal treatments on areas you feel you will be exposed to the sun. Be strategic with your appointments, and don't book one right before or after a cruise or sunny getaway.
Remember, laser hair removal treatments performed on areas of the body that will not be exposed to the sun during the summer are still safe, otherwise, plan ahead and get those laser hair removal appointments in during the fall, winter and spring seasons.
Toronto Laser Hair Removal Services
The Toronto Laser Hair Removal team are expert technicians who can further advise you on best practices for different circumstances. Our specialists use machines that are best-in-class and have years of experience. If you are new to laser hair removal or have lacked success at other clinics, call us to help you achieve your hair removal goals. We work extensively with men and women and perform laser hair removal on all areas of the body and on the face.
Book your appointment now with Toronto Laser Hair Removal.